The following are our holiday gift basket selections. Please remember all gifts baskets can be customized and should be given the day you pick it up from Pine Tree Apple Orchard. Gift baskets are not shippable. All baskets are available in several sizes, smaller sizes may not have all the enclosures and larger sizes will have more apples.  Gift baskets available from Mid-November to December 24.  Apple Gift prices are based on using Haralson Apples.



Pricing and Products are subject to change without notice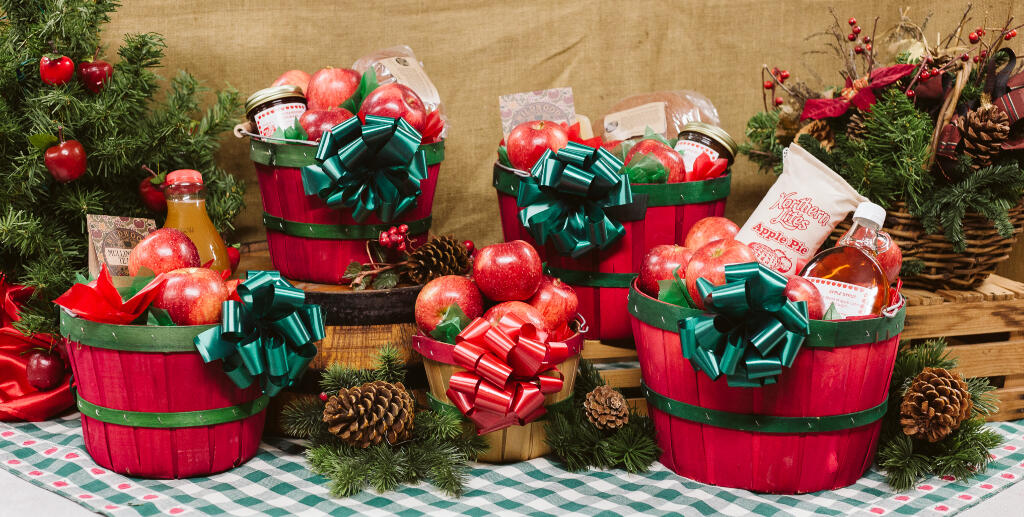 Includes a loaf of graham apple bread and your choice of one of our jams or butters.

 



Pine Tree's classic red and green basket full of apples comes with a bottle of apple syrup and a bag of pancake mix.

 


A colorful basket filled with fresh Minnesota-grown apples. This basket makes a healthy gift, perfect for families.

 


A basket filled with apples, cider and mulling spices. Perfect for evenings around the fireplace.
 


A basket carrying your very best regards. It includes apples, cider, mulling spice, bread and your choice of jams.





For that very special person, you want to give the very best. A beautiful basket filled with apples and much more.

 


Apple cider, mulling spices, a loaf of graham-apple bread, your choice of jams, cheese, and of course, crisp apples.